April 2022 Newsletter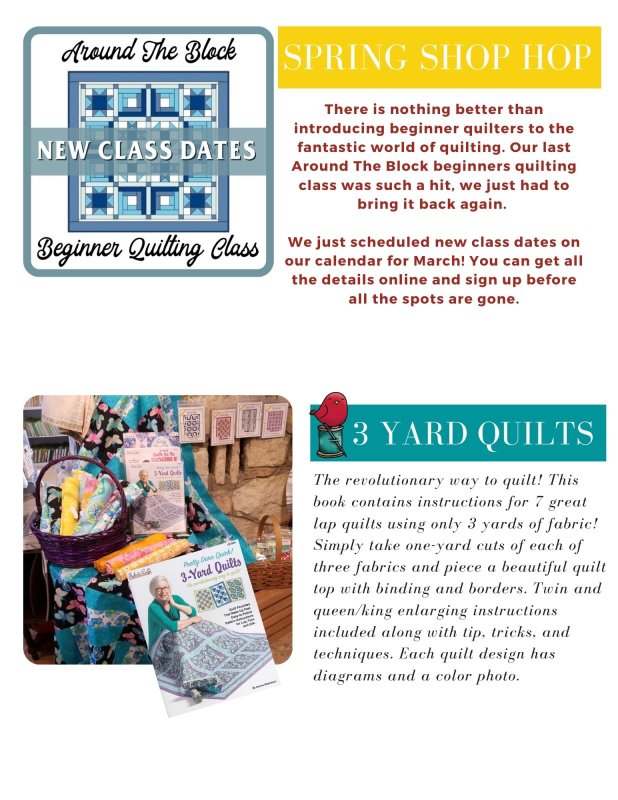 ---
Technique Series Classes - we schedule certain classes with regularity for those who are new to sewing and quilting or those who have missed a step along the way. Two of these classes are coming up...
Technique Series: Simple Straight Line Quilting - Apr 25, 2022 01:00 pm
As a beginning quilter, the actual quilting of our quilt top can be intimidating. They say there are 3 ways to quilt: Quilt by Hand, Quilt by Machine or Quilt by Check (pay a longarmer). This class is the simplest technique to successfully and beautifully finish your quilt by machine. You will learn to layer, baste and quilt with a walking foot. You will need to bring a table runner, topper or a baby quilt for your practice piece. Call with any questions.
Technique Series: How to Neatly Apply Binding by Machine. - May 23, 2022 10:30 am

There are many types of binding techniques, different width choices, different finishings. You can apply to the front by machine and hand-sew the back. You can self bind by leaving the backing larger and turning to the front. Our preferred binding is quick and using the right technique will look lovely on your project. It is completely machine applied. Bring a table runner or similar sized project quilted and ready to bind, the required amount of fabric for your binding, your machine and sewing/cutting tools and learn it hands on. Call prior to class with any questions. Linda 512 808 0490 Wimberley Stitch Studio
Technique Series: Raw-Edge Applique - Jun 11, 2022 10:30 am Learn to finish your raw-edge applique with techniques for quilting as you apply. You will need a cut and ready to fuse applique piece, such as a laser-cut fusible and the background you wish to apply it to. We suggest either a Horned Toad, Poinsettia or Cardinal on a Fat Quarter of Batik.
---
Don't forget every First Monday at 11 am -- Sew What's New? with Cyd. You will learn something new to make your quilting easier! Monday, May 2!
---
Fabric Collage Class - May 27-28, 2022 10:30 am Learn to make a Collage quilt.

Fabric Collage Class Add-on Day (optional) - May 30, 2022 10:30 am


Collage College: 3 Day Retreat - Jul 14-16, 2022 10:00 am
---
A BIG THANK YOU TO ALL OF OUR WILDFLOWERS ALL AROUND SHOP HOPPERS!
We have had such a good time meeting and visiting with you all.
Come see us again soon!