Hello, Sweet Friends!
I hope you enjoy seeing all the upcoming classes and encourage you to pick out your favorites while they are available.
We have class minimums on most classes, so don't hesitate to register early. Any classes that don't meet minimums
(usually 2 or 3 students, depending on teachers requirements) will be cancelled one week prior to class day.
The way to register is to click on the class title which will link you to our class on the website.
We will love to have you and as always, 10% class discount on material for class
and any other regular-priced fabric or product on class day.
Come and Have Fun Sewing with Us!
Coming Soon
THIS LOVE BOM
We've had a little delay, but we are so excited about this BOM.
Renee Racho is making this beautiful sample with our gorgeous fabrics!
On BOM day, Rene will also be sharing the included THIS LOVE Christian Devotional.
You can also order this BOM for pick up or shipping.
$25 registration / $20 monthly for 12 months
---
Simple Illusions
February 28, 10 am - 3 pm
$40
This quilt's name certainly explains the pattern itself. Simple Illusions is exactly what you get when you create it. You can hide the center pinwheel in each block or make it pop depending upon your fabric choices. Either way, the quilt is striking. Done in pastels it makes a great baby quilt
---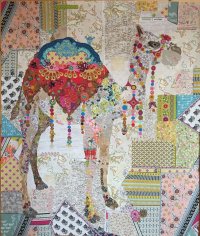 Fabric Collage Class
Saturday, February 29, 10 am - 3 pm
$45
(Add workday, March 14 +$30)

(March 14 also available for one-day class. Call the Shop)
* only two spaces left*
Learn to make a Collage quilt
using Laura Heine, Emily Taylor and Susan Carlson techniques.
*There is Pre-class preparation necessary.
Please call or come by ASAP so you have plenty of time.*
---
Anita's Arrowhead
Class rescheduled to
Friday, March 6
10 am - 3 pm
$40, pattern included
You'll love this clever technique!

There is still room, but sign up this week so you won't miss it.

Table runner (4 blocks) is just 2 fat quarters and 1/3 yard backing.
You can make any size you'd like!



---



Spicy Spiral Table Runner
March 12 10 am - 3 pm
$40


So very different and unique, this wonderful project will "spice" up the conversation at your table. Use different color ranges and values from dark to light - eight fabrics.





Requirements:




9 degree wedge ruler




8 fat quarters




---




Urban Chained


March 18, 10 am - 3 pm
$40
Worried about how to make your curved pieces look perfect? Worry no more! Wendi Kendrick will teach you how to use the Quick Curve Ruler to make perfect curves.
Click the link for info and Pre-class preparation.


---

Free Motion Machine Quilting
Patrice Meffley
April 4 & 11, 10:30 - 3:30

10 Hours of Instruction in 2 classes
Learn to use your sewing machine to machine quilt your own quilts
A little prep work, so check out the link.



---

Maise Dress Class

Pattern Techniques to make
the Maise Dress
Children's sizes 2-10

April 18 Prep, 1pm - 3pm
April 25 Class, 10 am - 3 pm
$50
($15.95 online pattern purchase and printing fee on Prep Day)




Judy is an experienced seamstress who has been making beautiful clothing most of her life and the last several years focused on precious little dresses for her granddaughter. You will love learning all the techniques for adding flair to your patterns, as well as using online pattern downloads, layering to print the correct sizes and more.




---


T-Shirt Quilt Class
Melissa's T-Shirt Quilt Class was a Hit!
We've scheduled a 2nd One
Saturdays, May 2nd & 23rd, 10 am - 3 pm

Gather 9-20 Tshirts for class.
Do not cut them.
Bring them and have some fun learning great techniques
with quality stabilizers to make a real quilt, not a stretchy blanket.


---

Dresden Ties
May 9, 10 am - 3 pm

Bring at least 10 ties to make a beautiful Dresden Plate block.
You'll learn the technique and can make any size table topper, wall hanging,
table or bed runner or quilt.




Thank you and Bless Your Day
Call or Come in anytime to visit, shop and ask questions.
512-808-0490

Linda, Rich,
Christy, Cindy, Melissa, Monica
&
Mendi Bobbins