I'm SEW Happy!
August - September, 2019
Well, Friends, I'm catching up.... Ha! I'll never completely catch up! But keep on trying...
If you've brought scissors and blades into The Cutting Edge... Thank you! Rich received lots of orders and is getting them done as quickly as he can. It will all even out in time. Our goal is one week turn around until he retires at the end of the year. Everyone has said they are very happy with his precision sharpening and that is wonderful!
Rich and I are leaving on a long-planned vacation and will be out of pocket for 3 weeks, but Christy, Melissa, Cindy, Cathy and Monica will be handling everything and I know you'll be well taken care of!


Mark your calendars!

Many new bolts and precuts have arrive and here are just a few.... SEW BEAUTIFUL!!!
At the Fireplace is where all the Hottest Fabrics are...
New panels and coordinating fabrics from 3 Wishes by Jaftex
Bright Birds and Good Dogs, Too.
These 57" panels from Moda - Gradients.
Amazing for a whole cloth lap quilt, table cloth,
with borders or a backing. Incredible designs.

We have some wonderful classes and events coming up,
so don't miss out!
Check out everything on the -> CALENDAR <-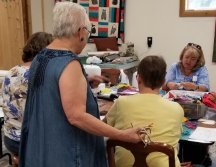 ... and SEW Many More Classes to come!

As I always tell you, thank you for being a customer and friend. We appreciate you SEW very much. Let us know if there is anything you're looking for or if we can do anything for you. Don't forget that we longarm quilt your tops so bring them in and we'll get them finished off for you to enjoy!



Fabric, Notions, Kits, Custom and T-shirt Quilts, Longarm Quilting... ask questions, take a class, learn to quilt or a new technique, come Sip-n-Sew on Open Sew Days, get your blades and scissors sharpened... and soon... a Quilt Retreat on the 6 acres behind the shop! How exciting it all is!