Skip Navigation
Website Accessibility
Hot Summer
July 2019
You may have noticed a few changes to our newsletters. We are now using our POS/Web system to send our newsletters and we hope this is a positive change for us and for you. If you like what you see, please let us know and if there is something you'd like to see in our newsletters,
feel free to send us a suggestion. We are here for you.
This is our happy place and we hope it will be one of yours, as well.


---
We love all this rain and somewhat cooler weather,
but we are praying for a pleasant 4th of July for the parade !!!
Come see our float!


Christy's flag in progress


You'll need to be at your viewing place (with lawn chairs and water)
by 9 a.m. when the streets close.
When we moved to Wimberley and attended our first parade, I was smitten!
We were handed flags to wave and listened to patriotic music.
Tears and Goosebumps.
Since then, I have always wanted the Stitch Studio to be represented to honor
our country, our veterans and active military.





A couple of years ago we started making quilts to honor our veterans
and it expanded to active military, as well.
This year we have 9 quilts that will be homed to veterans
and active military with our gratitude.

We will continue to make these quilts and see that they are given to show all of our appreciation for their service to men and women who have served and have never received a quilt.

If you are interested in helping with this project "Thank You Quilts",
you can donate time on sew days, 12 1/2" Red, white-ish and/or blue blocks
or cost of materials.
Watch the Newsletters for the next Patriotic Sew Day!


---
Starting July 1 for a limited time,
when your purchase is $100 or more,
you get a free $25 gift card for your next purchase.
$75 or more and
you get a free $15 gift card for your next purchase.
Now that is a HOT deal!


---


Cathy is filling up the calendar quickly so check out the schedule and sign up while there is still room. We have an option on the sign up for a waiting list, so if the class fills up, add yourself to the list and if someone has to cancel we will let you know. Also if there is interest in a second class, we will try to put that on the schedule, too.





There is still room in some of the July classes, so check them out at this link:

July Calendar

On the Calendar page, just click the class to get more info and sign up.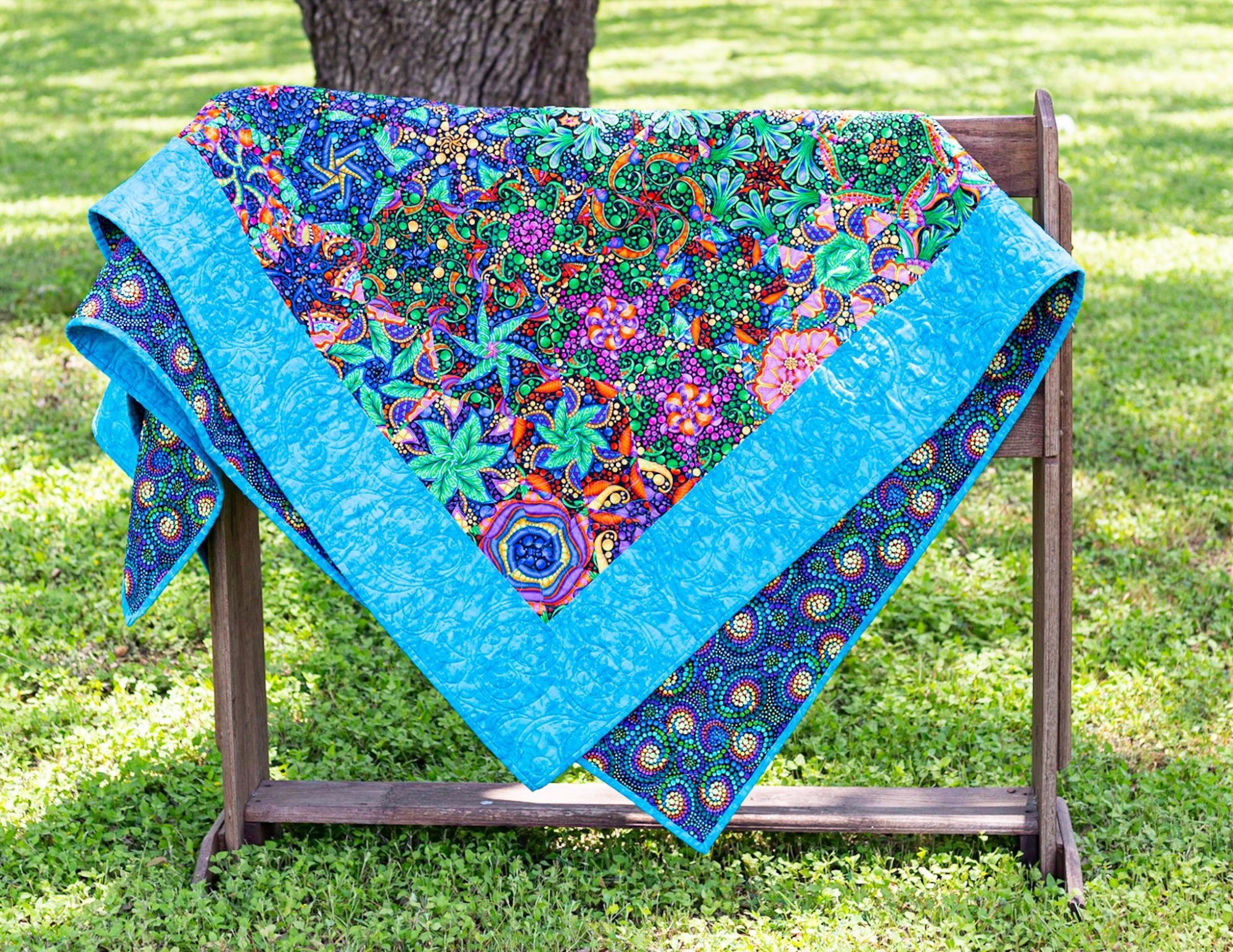 July 11, 12 and 19 classes are the Santorini Tote by Jessica Baker,
One Block Wonder
and Spicy Spiral Table Runner by Cathy Bridge.

There is the
Building Blocks Beginner Quilting (Cathy starts July 10),
Sew Much Fun Summer Camp for kids I & II (Melissa July 15-26),
Double Wedding Ring (Cathy July 25),
Beginner Hand Embroidery (Christy July 30),
Machine Embroidery 101 (Pamela Graham July 31)
... and more!


Click Next on the Calendar page to see the classes added for the following months.


---
Do you Row By Row?

From June 21 to September 2,
Quilters around the country and internationally are visiting participating shops
and collecting patterns and kits for this year's theme:


At Wimberley Stitch Studio, our row is our class theme:


Sip

'n

Sew


Not only do we want you to come take a class and have a cuppa with us,
we want you to add this row to your quilt, make a table runner or wall hanging for your
happy place - the quilting room (table, nook, studio)
Our row features Quilting Treasures' fabrics in turquoise, cream, aqua, bronze and brown with buttons and Steam-a-Seam Lite2 in your kit, ready to sip 'n sew together.


---

Home by Timeless Treasures


This new Cotton Blossom collection with a stunning blue and cream color way is perfect for a country chic quilt. We have the beautiful panel, barn wood, mason jar and complimentary cotton blossom coordinating fabric. These match perfect with a soft blue and white grunge fabrics.

Check out our sample on the mantle at the Stitch Studio!



Making it easier to see the Entrance...




Thank you for taking the time to check out our newsletter.
Hope you stay cool when you can and get out and have some fun.
Keep Quiltin' and showing us what you're working on!

Linda, Rich, Christy, Melissa, Cindy, Monica
& Squeakers



If someone sent this newsletter to you and you'd like to subscribe,
click this link...

Sign up for Newsletter.