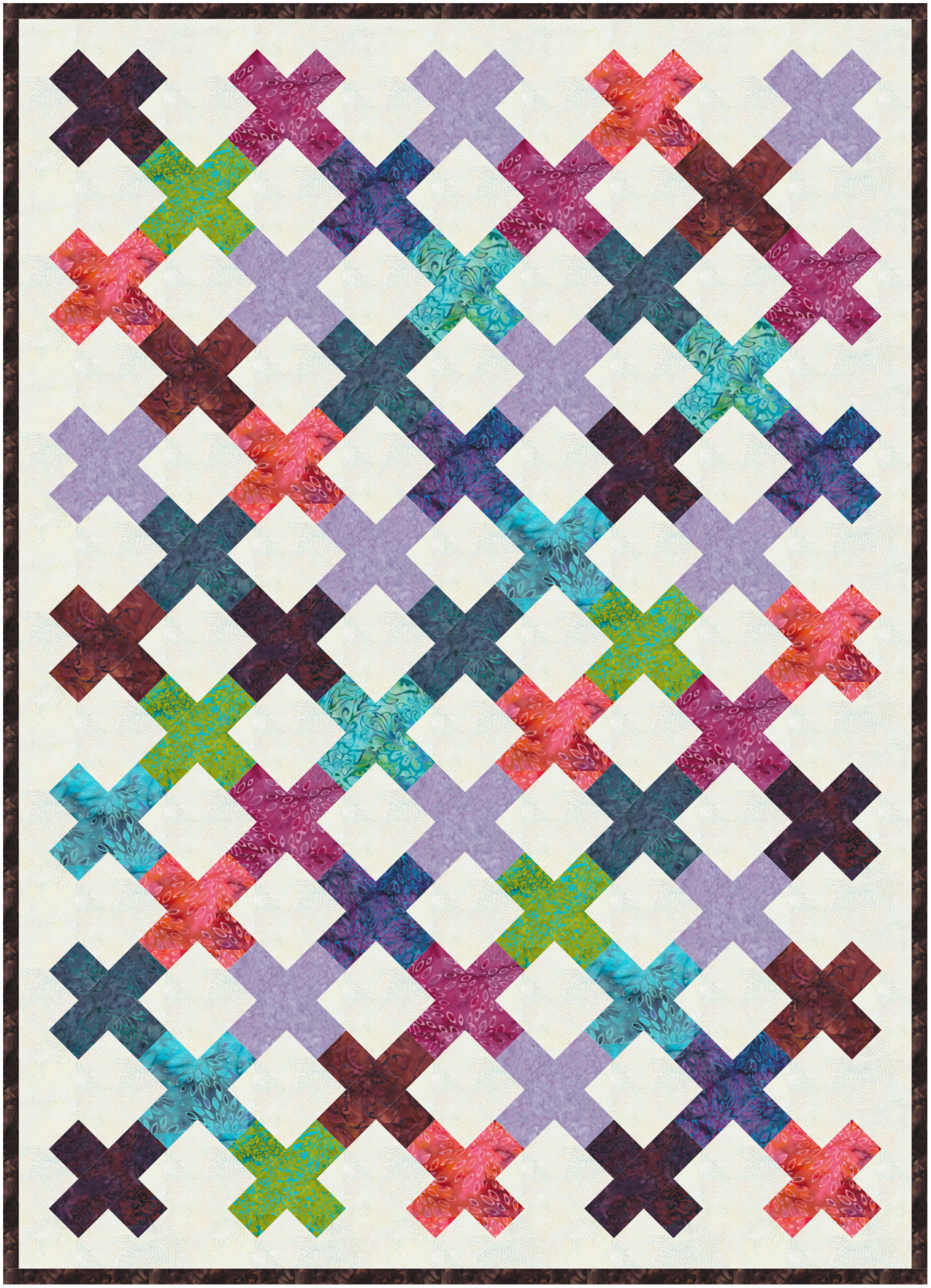 $40-44 Jell Roll / 2 1/2" strip pack is included with this class. 2 1/2 yards background required.


Cross the Line-- Moda Project Jelly Roll 2022
Wimberley Stitch Studio
Pre-class cutting instructions:
Unroll the Jelly Roll and select 36 strips. Each strip will yield 2 blocks.
From Each strip, cut:
2- 2 ½" x 6 ½" strips
2- 2 ½" x 11" strips
From Background fabric, cut:
19- 2 ½" x WOF strips
Sub cut 36- 10 ½" strips (save the rest)
6- 10" squares
6- 5 ½" squares
Bring your machine and sewing/quilting tools, fabric and let me know if you want to order lunch (check the class page for info)


***NOTE: included with your Moda pattern will be a supplement I have created to not only simplify this pattern, but also has instructions for using more of the Jelly Roll to create a larger quilt- up to a queen size.
| | |
| --- | --- |
| Skill Level: | Beginner |
| Skill Details: | Skill level: Understands basic quilt piecing and machine use. |
| Materials Included: | Pattern & your choice of jelly roll |
| Requirements: | Machine and basic quilting tools and supplies. Large cutting mats, irons and ironing pads in classroom. Need 2 1/2 Yards of background fabric. Choose one very contrasting from your jelly roll. Precutting (if you feel comfortable doing it before class): From background, precut 21- 2 1/2" strips x WOF, 6 - 10" squares, and 2 - 5 1/2" squares. Choose 36 strips from your jelly roll. From each strip, cut 2 - 2 1/2" x 6 1/2" strips. Be sure to bring your clean sewing machine with a fresh needle, grey or matching thread and several bobbins filled. Check your 1/4" seam allowance (1/4" foot if you use it). Bring your rotary cutter with a good sharp blade, your long ruler and 6 1/2" ruler (or larger). Lunch- Please come early to order and pay if you want lunch or bring a sack lunch. Bring a drink or there is coffee/ hot tea/ water available. $10- Chicken salad sandwich and chips $18- (Big) Chicken Cobb salad Park beside the (garage) classroom door in the back corner to be close to the classroom or at the railroad ties. |
| Instructor: | Linda Hasselberg |
| Instructor Bio: | .Linda has owned and operated Wimberley Stitch Studio since 2013 and has been quilting for over 30 years. She enjoys sharing what she has learned over the years and to simplify what looks complicated so it is enjoyable and yields beautiful projects. |