Stitch Studio Exclusive Offer!
Choose either:
Discount on any machine
or
a Gift Certificate for
$75 on Sparrow 25 or 30
$50 on Sparrow 20
$25 on Sparrow 15
PLUS
a free "Get to Know My Sparrow" class worth $40



EverSewn Sparrow 30 Reg.$460
Love at first stitch
The computer-controlled EverSewn Sparrow 30 is our newest machine in this series. It offers everything a creative sewer could need, at a very attractive price / performance ratio. The Sparrow 30 boasts 310 stitch patterns in total, including 32 utility, 84 decorative, and 2 full alphabets. Decorative stitches can be set up to a width of 7 mm, as desired. The memory function allows individual stitch combinations to be saved. With the push of a button, the Sparrow 30 cuts your thread automatically. In addition to features such as adjustable presser foot pressure, sewing speed control, start/stop function and needle stop up/down, the EverSewn Sparrow 30 also includes seven standard presser feet (soles) and an extension table.


Call the Stitch Studio to place your order!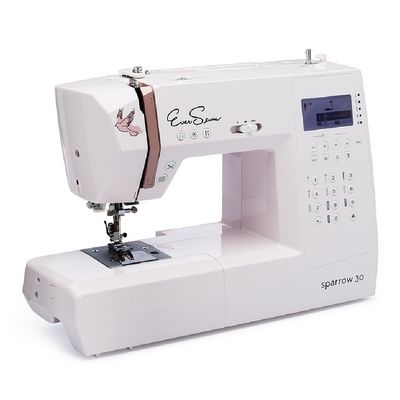 Sparrow 30 Includes a slide on table


| | | | | |
| --- | --- | --- | --- | --- |
| *Stitch Studio price- Call for Holiday discount | $460 / $409 or $75 GiftCard | $399 / $359 or $75 GiftCard | $339 / $309 or $50 GiftCard | $189 / $169 or $25 GiftCard |
| Machine Type | Computer | Computer | Computer | Mechanical |
| Display | LCD | LCD | LED | |
| Hook System | Drop-in | Drop-in | Drop-in | CB |
| Free Arm Length | 163mm | 163mm | 163mm | 150mm |
| Maximum Sewing Speed (Stitches per minute) | 850spm | 850spm | 850spm | 750spm |
| Total Number of Stitch Patterns | 310 | 197 | 80 | 32 |
| Fully Automatic Thread Cutter | ✓ | | | |
| Start/Stop Button | ✓ | ✓ | ✓ | |
| Memory | ✓ | ✓ | | |
| Threader | ✓ | ✓ | ✓ | ✓ |
Extension Table ✓

Introducing the Best of the Best...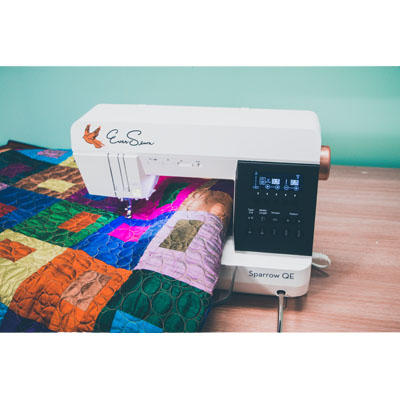 The EverSewn Sparrow QE is a great sewing and quilting machine. $799
The impeccable stitch quality, modern design and unique sewing features makes it the perfect quilting and sewing machine! It offers everything a creative sewist could need at a very attractive price / performance ratio. Key Features: The Sparrow QE has an 8 inch sewing throat that can easily handle larger quilts! The machine comes equipped with a knee-lifter, thread cutter and additional straight stitch plate. With over 70 stitch patterns, a very intuitive control panel and a flawless stitch quality - this is the perfect machine for every quilter! With over 850 RPM sewing speed, approximately 16lb., a 7mm stitch width and all other EverSewn key features this really is a great mid-range machine. $799 is minimum advertised price and no other discounts apply.

And... for those who want to step into machine embroidery...

Sparrow X Embroidery and Sewing Machine Combo $799
The EverSewn Sparrow X is a next generation sewing and embroidery machine.
The embroidery functions are controlled with a smart device. WIFI is not required. Technology is integrated and works with Apple® or Android™. The App offers an easy way to get from inspiration to the stitched-out design. This state-of-the-art sewing and embroidery machine is perfect for every sewist that loves to create. Sewing Machine features: -Thread cutter, one-step button hole, speed control, needle up and down, electronic tension adjustment, straight-stitch plate included. -Presser foot pressure adjustment. -Over 120 different stitch patterns. -Advanced auto threader. Embroidery Features: -Two hoops come with the machine (large and small) -Over 100 embroidery designs included -Reads most common embroidery files (EXP, PES, DST...) No ART -Max embroidery speed 650 rpm -Max embroidery area of 4.75x7 inches -Automatic thread trim function between jump stitches -Thread away function for clean embroidery surface -Multiple thread sensors -Machine controlled with smart device (Android or Apple) -App offers design modifications, easy placement and monitoring features. Friendly Interface Forget about the small and unclear screen on your old sewing machine. Now you can use your mobile device (cell phone or tablet) to create your designs with more freedom. Our App allows you to customize your design in a few easy steps. Wi-Fi Support With a built-in Wi-Fi connection, you can monitor the current embroidering progress without being in front of your machine. The App notifies the user about all important values (time for embroidery left, next thread colors and the current status). Editing Tools Download the App "EverSewn Pro". It provides a series of tools that allow users to import other embroidery files, change thread colors, and adapt the patterns without limitation. This easy-to-use tool substitutes basic embroidery software and offers a one-touch experience like you have never experienced before! Perfect stitch quality, ease of use and a modern design makes the Sparrow X one of the most anticipated products of 2018! This machine will get every crafter, beginning sewist or quilter excited for embroidery and they will find embroidery easy, fun and exciting. $799 is minimum advertised price and no other discounts apply.
Save